Bring Your Own Bottle & Paint Your Own Masterpiece!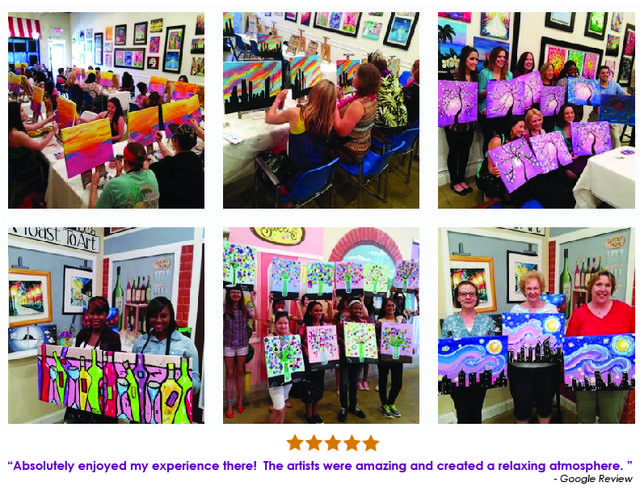 What's New for 2020 at A Toast to Art! 1. First off we're happy to announce that our Customer Loyalty Card is back for a limited time this year. Come five times to our full price classes and your sixth visit is on us.
2. Also, we're discounting all our Wednesday and Thursday 2pm and 6pm classes. The cost per class will now be $25 per person. (Please note, no points toward our customer appreciation card will apply to these classes.)
3. And lastly, we've added 3 dozen new pieces to our already huge inventory of paintings so there's even more to choose from.
So, there you have it, a new year and three new reasons for us to be your favorite place to come and paint your ART out!
Here's How to Register... Our classes offer 2 to 3 hours of fun & relaxing Artist-Guided Sessions designed for ANY Experienced Painter, Beginner to Expert! (We recommend a FULL glass of Wine for Beginners! :)
1. Select a class from our calendar.
*Registering online will guarantee your seat(s). Walk-ins are welcomed as seating permits.*
2. Grab a group of friends, make it a date, or come solo and mingle.
3. We'll provide all the art supplies; you'll bring along your drink of choice, cups & snacks!
4. Come as you are! There is no dress code for this occasion. Aprons are provided to help protect designer threads. We are not responsible for items of clothing that come into contact with the paint. Paint at your own risk!
5. Follow the instructor or add your own flair to create a unique masterpiece fit to display on the wall of the finest art gallery or in your very own living room.
Ask About Our Private Party Option
With a minimum of only 10 people on weekdays or 15 people on weekends, you can host your very own Private Paint Party!
You get the studio all to yourself for three hours and you can select any painting in our inventory for your guests to re-create. You can paint for an hour and a half or two and "celebrate the good times" for the rest.
And there's more! You can host a Private Party for the SAME per person cost of our standard two-hour class.
Call 770 288-2800 to reserve YOUR party today!
"Please Note Before Registering"
*All our 2PM sessions are restricted to persons age 12 and up. All sessions after 6PM are restricted to persons 18 and up. With the exception of private parties, we no longer offer any classes for children under 12.
*All regular class seating is on a first come, first seated bases, if you are part of a large group we highly recommend you consider a private party if you wish to all be seated together, otherwise we suggest a single purchase for the group, that way the first member to arrive will get the number of canvases reserved for your party. But once again group seating availability will still be contingent on your arrival time.
*In an effort to keep our prices down, all online sales are final. No refunds. No exchanges, No exceptions. We encourage you to otherwise visit our studio as a walk-in with the understanding that seating is limited.
*Also, unless you're a private party all food and drink items must be confined to your seating area. No outside tables are permitted to be brought into the studio.